Discover Exclusive Food and Beverage Offers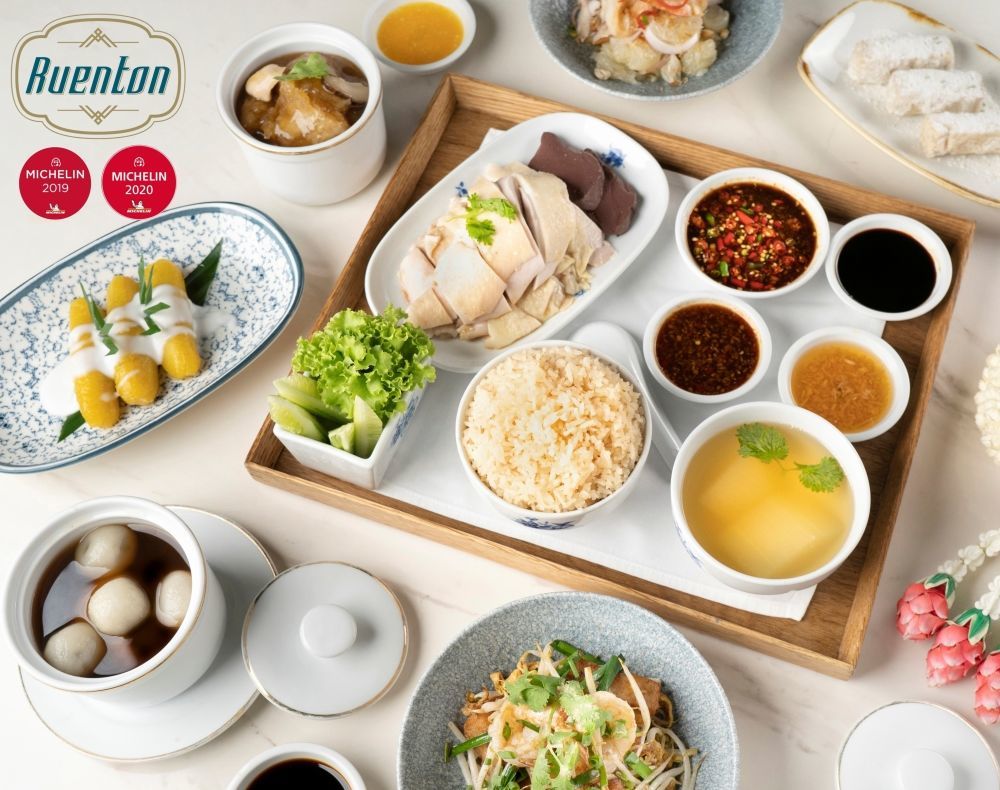 Mother's Day Promotion
Stay home this Mother's Day weekend and surround your mum with love, affection and a wonderful spread of gourmet cuisine prepared by the master chefs of the Montien.
Imagine mum's smile when she's served delectable dishes from our Michelin BIB Gourmand award-winning restaurant Ruenton, including Chicken Rice, Organic Polemo Salad with Grilled Prawns, and Fish Maw in Golden Soup.
Every order with a minimum purchase of THB 1,000 will receive a complimentary 'Snow Taro'. A special dessert prepared just for this Mother's Day.
Moreover, receive a complimentary night stay in our Deluxe Room when reaching a minimum spend of THB 3,500 net.
This special Mother's Day offer is valid for home delivery / takeaway.
Place your order directly via official LINE account @montienbangkok or, Tel. 02 237 0015-18.
Promotion period: 11-15 August 2021, from 10.00 am to 8.00 pm
Terms & condition:
- Snow Taro will be delivered together with your food order.
- Guest will need to add the hotel LINE official account to receive the complimentary room voucher
- Offers valid from 11-15 August 2021
- The hotel reserves the right to change the complimentary desserts / giveaway without advance communication.
Read more
Less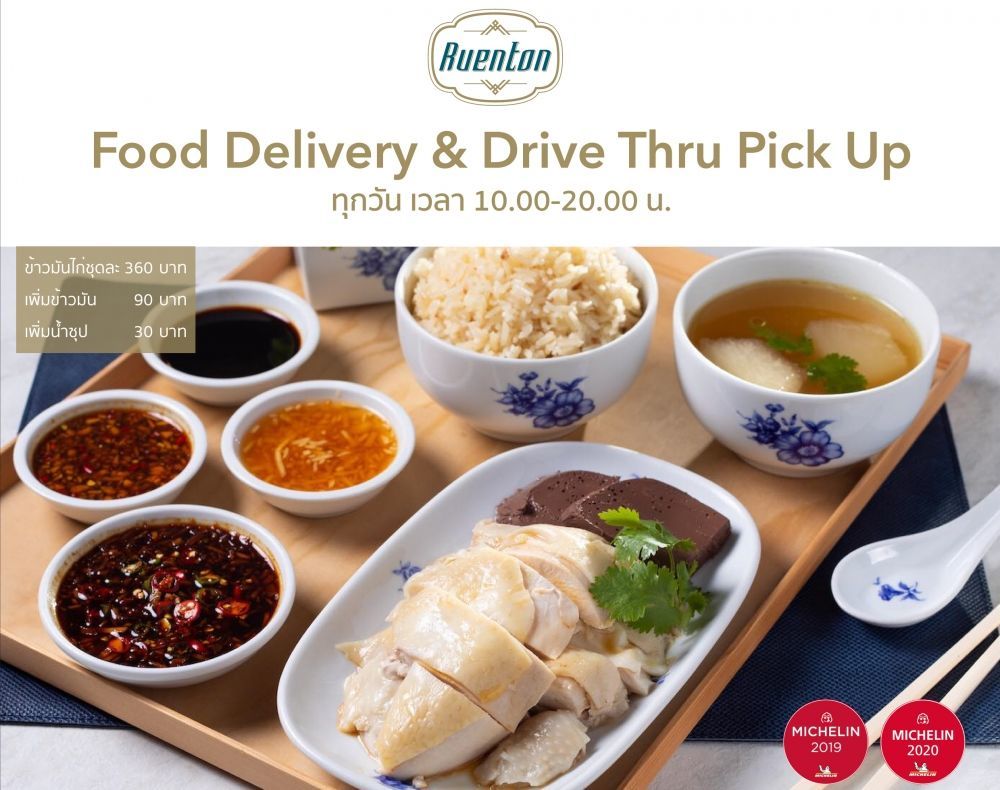 Ruenton Takeaway & Home Delivery Service
Staying safe does not mean you have to give up your favourite menu. With Ruenton restaurant drive thru and home delivery services, you can now enjoy the Bib Gourmand MICHELIN 2019-2020 award-winning dishes in the comfort of your own home.
Option 1: Drive thru pick up – place your order in advance via 02-237-0015-18, 094-453 2828, 094 – 552-8798. Available every day, from 11am to 8pm.
Option 2: Get food delivered to your doorstep via Robinhood and LINE MAN applications, simply search 'เรือนต้น' and order.
Read more
Less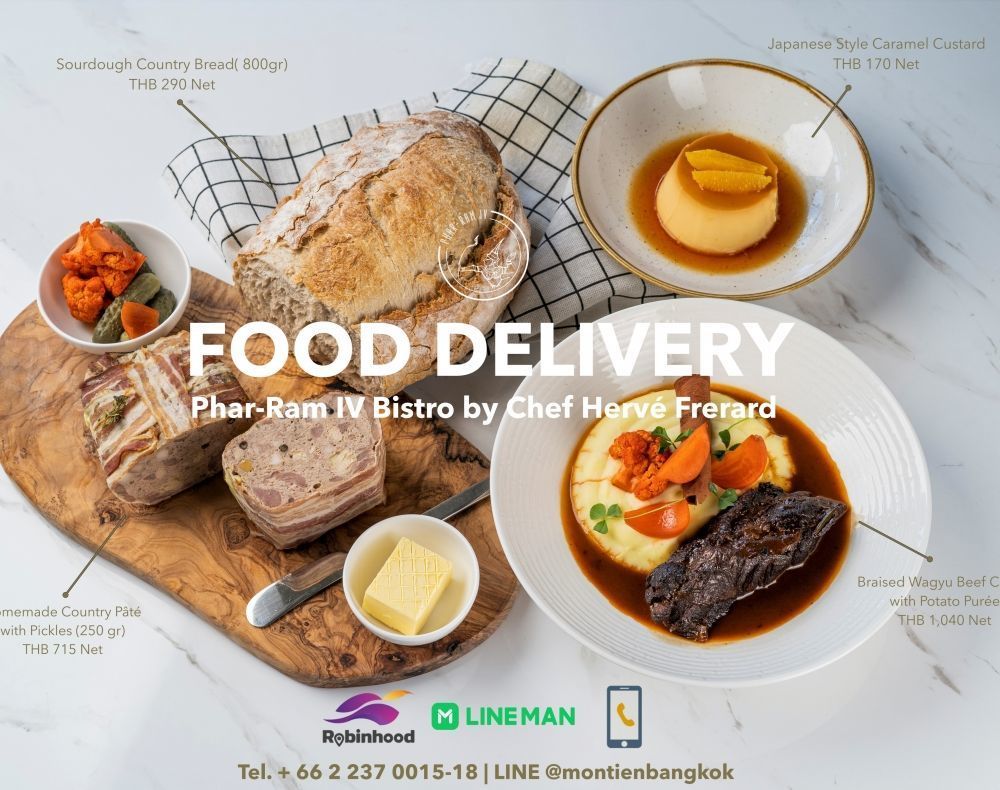 Food Delivery from Phar-Ram IV Bistro by Chef Herve
Now you can enjoy the divine cooking of Bangkok's favorite French Chef, Herve Frerard, in the comfort of your own home. With a curated list of culinary delights delivered straight from the kitchens of his acclaimed Phar-Ram IV Bistro at the Montien Hotel.
The delivery menu includes Homemade Pork Rillette with Pickles (THB 715 net), Braised Wagyu Beef Cheek with Potato Purée (THB 1,040 net), and Blueberry Burnt Cheesecake with Compote (THB 245 net).
Delivery time: every day from 10 am to 8pm
To place your order: Tel. 022370015-18, LINE ID @montienbangkok
LINEMAN and Robinhood, search for 'Phar-Ram IV Bistro'.
Read more
Less