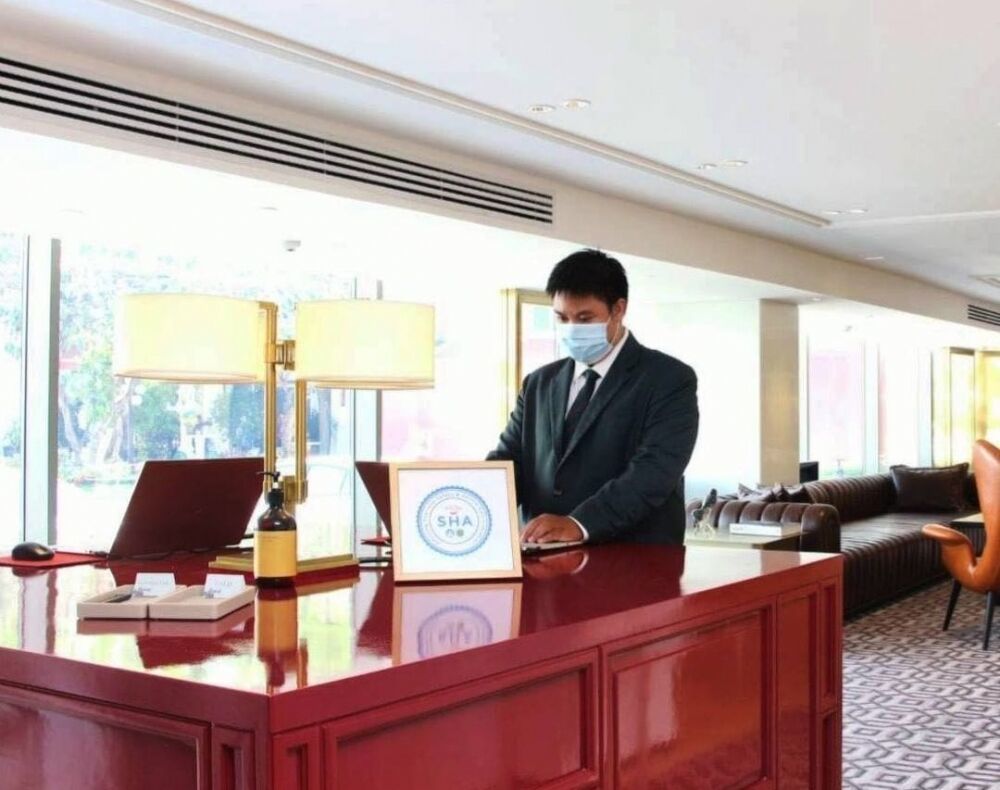 Our Policy
At the Montien Hotel Surawong Bangkok, we strive for the highest standards of hotel cleanliness. We follow rigorous cleaning processes at the hotel and all employees receive training on Covid-19 protection and sanitation procedures by Chulalongkorn Hospital to ensure best practices. The safety and well-being of our guests and employees is our utmost top priority, therefore we strive to do everything necessary to ensure everyone feels safe and at ease from the moment they enter the hotel.
We have adjusted our approach on safety and operational standards at the hotel to better satisfy the changing consumer expectations during the fight against Covid-19. We have introduced elevated hygiene measures which touches every aspect on our health & safety protocols, food and beverage handling, contact-free services to housekeeping sanitation touch points.
These new practices have been implemented with full compliance of all regulated and recommended guidelines provided by the World Health Organization (WHO), Ministry of Public Health of Thailand (MoPH) and Department of Disease Control (DDC).
Comprehensive training by Chulalongkorn Hospital on protection and sanitation procedures for all departments
Mandatory temperature check for all guests and employees upon entering the hotel
Mandatory face coverings required for all guests and employees in public areas
Place hand sanitizer stations at all touch points throughout the hotel and back of house areas
Implement physical social distancing; increase signage to promote hygiene in all public areas
Utilization of UVC light for disinfecting of all key cards and steam cleaning in guest rooms
Notes are placed in guest rooms indicating the room has been sanitized and inspected
Special filters for air ducts have been installed to promote clean airflow throughout the building
Updated in-room amenities, including travel size disinfecting wipes, hand sanitizer
24-hour onsite advisors with full knowledge of all local medical centres and COVID testing facilities
Contactless check-in and check-out via kiosks and offer contactless payment options
Digitalized in-room menus and ordering, contactless room service deliveries
Enhanced menus with more "take out" items, including pre-packaged options
Elimination of buffet and other self-service F&B stations to avoid contamination
Limited employee access to occupied guest rooms; room cleaning based on guest preference
Restaurants carry disposable options including; cutlery, napkins, glassware, etc.
Guest PPE and sanitation items available upon request
Use of personal protective equipment (PPE) mandatory for all staff, vendors and contractors
Hotel wide contact tracing logs for both hotel guests and employees
Enhanced guest e-communication on hotel health protocols; pre-stay emails; post-stay surveys
Read more
Less